Community
CEMA Search and Rescue Team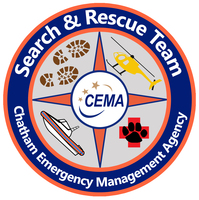 Chatham Emergency Management Agency's Search and Rescue (SAR) Team continues to grow and boasts nearly 20 active members.  Since the team's inception in May 2010, members have assisted law enforcement in dozens of searches involved missing persons.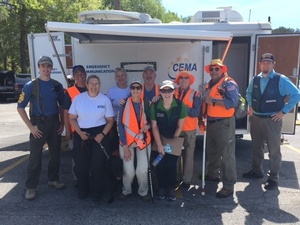 Team members are trained and certified in Search and Rescue.  The training members undergo focuses on man-tracking skills, clue identification, route and area searches, land navigation and rope skills.  In addition to the training, members of the CEMA SAR Team are required to carry a fully equipped 24 hour pack.
Ongoing training for the team doesn't stop.  CEMA SAR Team meets regularly and conducts exercises that are as close to a real life search as possible.  The Team creates yearly training calendars and identifies skill sets and goals they would like to accomplish for the year. SAR Members attend training on Urban Search, clue awareness, land navigation, map and compass work, K-9 search, marine rescue, search management training and much more.  CEMA Duty Officers also attended training, in order to work along side both SAR members and police if needed to assist in a search. 
The CEMA SAR Team has been recognized by the Chatham County Commissioners for assisting law enforcement in several searches that ended successfully.  In fact, in April 2017, the CEMA SAR Team along with SCMPD and Mosquito Control had a successful search in which they found a missing elderly woman.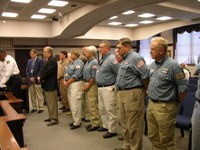 It's the commitment from team members and their ongoing training that provides local public safety officials with an additional resource.  It's CEMA's goal to continue the mission of the SAR Team, so when that call comes again, the team will be ready. 
If you are interested in joining the SAR team, contact CEMA's office at 912-201-4500, email Chelsea Sawyer at clsawyer@chathamcounty.org, or download and fill out the Volunteer Application. You must be in good physical health and be available for call-outs.