News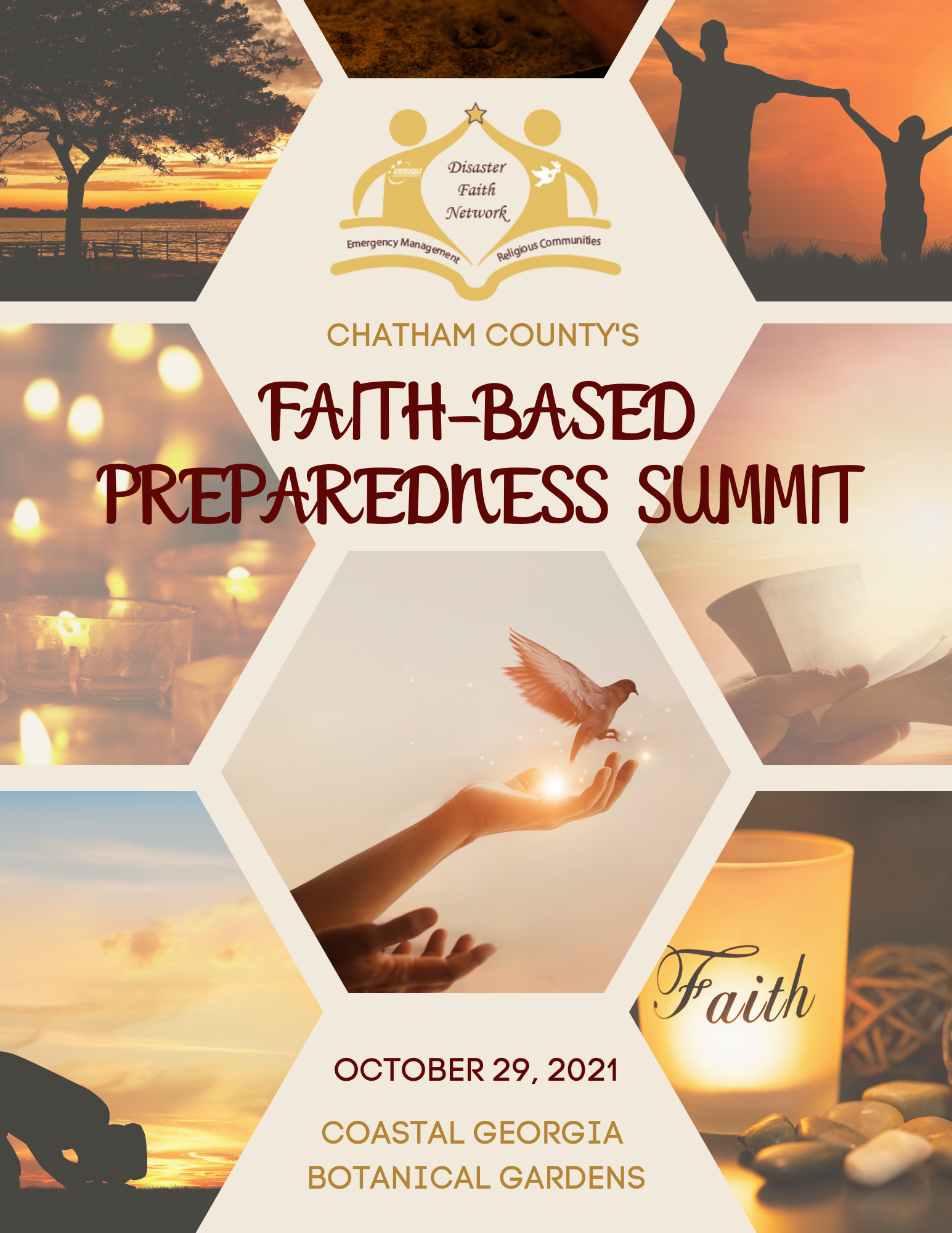 The Chatham Emergency Management Agency (CEMA), is proud to announce that we will host our third annual Faith-Based Emergency Preparedness Summit on October 29, 2021. This event will be held from 9:00 AM – 4:30 PM at the Coastal Georgia Botanical Gardens (2 Canebrake Rd. Savanah, Ga 31419).
The Faith-Based Emergency Preparedness Summit aims to engage leaders within Chatham County's Houses of Worship to build more resilience with faith-based communities while providing a venue that allows for open dialogue and information sharing. This interactive summit is a great opportunity to learn how your organization can provide resources to your membership before, during, and most importantly after a disaster in our community.
CEMA along with the Federal Emergency Management Agency (FEMA), Chatham County Safety Net Planning Council, Inc, the Salvation Army, the Department of Public Health (DPH), and the Telfair Museum will deliver presentations on topics including: community preparedness and engagement; emergency planning and shelter fundamentals; and disaster mental health awareness and suicide prevention. During our opening session, local leaders and elected officials, esteemed members from the faith community and the Department of Homeland Security's Center for Faith-Based and Neighborhood Partnerships Director, Marcus Coleman, will speak regarding the critical role that our Houses of Worship and the faith-based community play in disaster preparation and recovery.
We would like to invite you, and any leaders within your organization, to join us for this summit to help ensure our faith-based community is disaster ready. The event is free and lunch is provided; however, we do request attendees pre-register online HERE or by contacting our office: 912-201-4500.
The Coastal Georgia Botanical Gardens is a spacious venue that will allow adequate space for each participant. In addition, we are limiting the event's capacity to ensure we can keep our distance and remain safe. Precautions, including the required use of a mask throughout the event, are in place to ensure the safety of our guests.
If you have any questions regarding this event or how your House of Worship can get engaged with disaster preparedness or response, please contact CEMA's Outreach Coordinator, Chelsea Sawyer- clsawyer@chathamcounty.org. We look forward to seeing you on October 29th.
During this event we will offer information and educational workshops on the following topics:
Reducing the Stigma of Mental Health and Instilling Hope: Did you know that over 60% of Americans will first report to their religious leaders for advice and direction following a disaster or personal crisis? Religious leaders are trusted caregivers to whom the majority of Americans turn for assistance and healing. During times of crisis, Faith-Based organizations help communities find meaning and provide a foundation for community recovery. During the first session of our Faith-Based Summit, we will be teaching QPR. QPR stands for Question, Persuade, and Refer — the 3 simple steps anyone can learn to help save a life from suicide. Just as people are trained in CPR and the Heimlich Maneuver, which help save thousands of lives each year, people trained in QPR learn how to recognize the warning signs of a suicide crisis and how to question, persuade, and refer someone to help. QPR is not intended to be a form of counseling or treatment. QPR is intended to offer hope through positive action. Each year thousands of Americans, like you, are saying "Yes" to saving the life of a friend, colleague, sibling, or neighbor.
Preparing to Help- Is Your Kitchen Disaster Ready? Hear from the Chatham County Health Department Environmental Safety Director and the Salvation Army on how you can prepare your House of Worship's kitchen for emergency feeding. Learn about resources that exist in our community, what classes your congregation and staff can participate in and the steps you need to take to ensure your kitchen is up to the task of serving those who need it most following an emergency event or disaster in Chatham County.
Emergency Operations Planning and Shelter Fundamentals: Emergencies can occur quickly, without warning and can have a devastating impact on affected individuals, businesses, and community facilities. During this workshop, taught by CEMA's Seth Sawyer, we will provide guidelines on the development of a comprehensive emergency operations plan for Houses of Worship in response to both common and uncommon hazards Chatham County may face. In addition, we will explore how your House of Worship can become engaged in emergency sheltering, serving as a resource for those impacted by an emergency or disaster.
Preparing Your Building For Disaster: Partnership with the Telfair Museum to discuss their emergency plan. How do you prepare for the unexpected when your entire building is historical? What things do you need to consider when planning for emergencies in your building?
To register, please CLICK HERE or copy and paste the link below:
https://events.r20.constantcontact.com/register/eventReg?oeidk=a07eidbtfb5ae3d4156&oseq=&c=&ch=