Preparedness
Siren Program
The Chatham County Outdoor Emergency Warning Siren System is used to notify residents of danger within their community. Currently there are 61 sirens installed, which cover 95% of Chatham County. Click here for a Siren Map.
Warning sirens are used in Chatham County to notify people about ALL hazards (such as hazardous materials, fires, explosions, tornadoes) that would require the public to act to ensure their safety. The Chatham Emergency Management Agency installed the warning sirens in or near outdoor recreation areas and where a large number of people typically gather.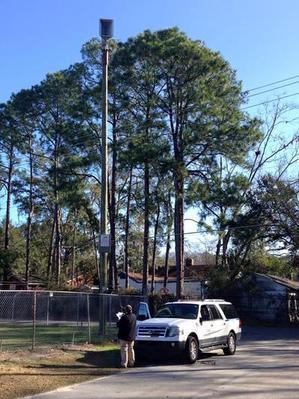 The sirens have an effective range of two miles in diameter. At 100 feet, the sirens are heard at 129 decibels (the equivalent sound level of a jet engine taking off). At one mile, they're heard at 70 decibels (the equivalent sound level of a normal conversation). This alert tone, which is a continuous 3-minute sounding siren, can be heard by clicking the following link: Warning Siren Sound.
In the Spring of 2013, CEMA purchased new siren control equipment through an Emergency Management Performance Grant. The WeatherWarn system uses polygons to select certain areas that are under severe weather threats. When selected, only sirens located in specific polygons will sound. The system will soon be able to automatically push updates to residents who subscribe to CEMA's email and Twitter alerts.
The WeatherWarn Control System is a very easy to use software program to activate any of the sirens. The sirens are grouped into eight zones across the County to better coincide with weather patterns typically impacting Chatham County. The software utilizes the National Weather Service's (NWS) polygons that are placed over an area in the event of an emergency, such as a Tornado Warning. WeatherWarn then overlays that polygon on a map and individually activates sirens inside the polygon. When sounding the sirens during a tornado warning, the system will run selected sirens for three minutes, then pause for ten minutes, then activate for three minutes. This cycle repeats until the warning is canceled by the NWS.
What the Public Needs to Know if They Hear a Siren: Each siren makes the sound of one long wail which is distinctly different from the short, repetitive wails of fire engine truck sirens or police car sirens.
If you are OUTSIDE when you hear the siren to take refuge immediately inside of a sturdy building. Once inside, monitor emergency advisories by listening to NOAA weather radios (strongly recommended), commercial radio or televised newscasts.
Warning siren testing: The Chatham Emergency Management Agency conducts monthly tests of County warning sirens. On the first Wednesday of each month, the outdoor warning sirens are briefly activated at 12:00 noon. This program is designed to maintain a reliable warning system and to meet State and Federal testing guidelines. In the event of bad weather, the test will be cancelled to avoid confusion.
Are you curious to see where the nearest outdoor warning siren is to your home or business? Savannah Area Geographic Information System created an interactive webpage that allows you to do just that. The site allows you to view the siren map a couple of different ways, to include a full view of the entire county and every siren, or to zoom in on a specific location. One of the features on the map is a search bar where you can plug in your address and see how close you are to a siren. You can also use a ruler to measure your distance from the siren.